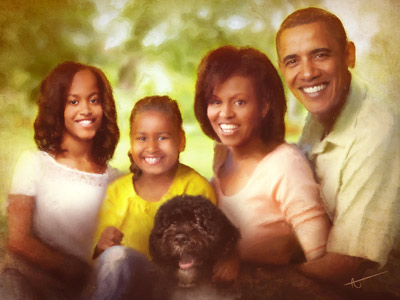 Is there a new set of little feet running around the White House?!!!! Absolutely!!
It has been confirmed that the Obama's have officially welcomed a new member to the family!!
The new addition is none other than a one-year-old Portuguese water dog named Sunny!!!! We hope you didn't think the Obama's were having another baby??!!! Sasha and Malia definitely aren't having that...LOL!


Sunny, who is a girl by the way, is the same breed as her big brother Bo, the Obama's boy dog that was a gift from the late Senator Ted Kennedy and his wife (how sweet!).
The Obama's were definitely excited about Sunny's arrival. The President even tweeted about it!
Welcome to the family, Sunny. pic.twitter.com/j0slNwCHaw
— Barack Obama (@BarackObama) August 20, 2013
Sunny was named because of her bright and energetic personality! How cute! Sunny is just as adorable as Bo! We know these two will have the time of their lives running up and down the South Lawn!