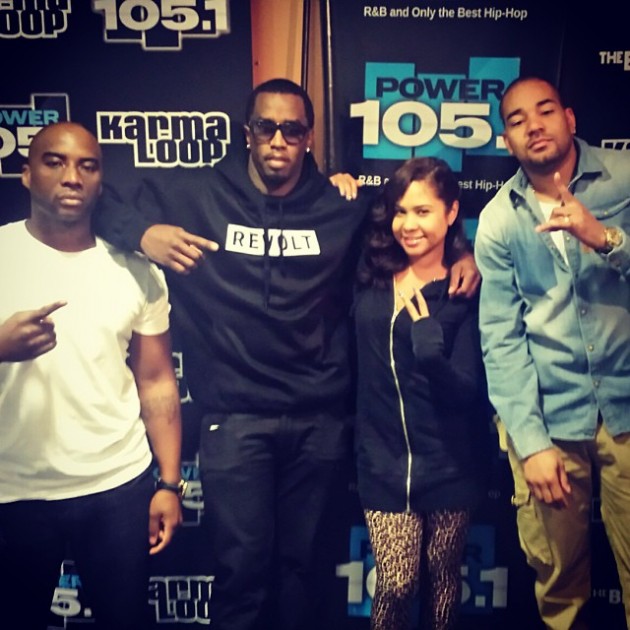 Diddy
stopped by
Power 105.1's The Breakfast Club
to discuss his television network
Revolt TV
, becoming
Puff Daddy
again, and starting from the bottom and transforming into one of Hip -Hop's biggest cash kings!
On deciding to launch Revolt TV:
"I really went the 'brand' route. I really put a bet on music and a bet on technology. When I started seeing the festivals go from one weekend to two weekends and just as far as the music is consumed at an all-time high right now, if you think about it, in about five years, television will actually be everywhere. It will be on your mobile devices, it will be worldwide. So that's really the opportunity that I saw. I saw that there was no ESPN of music. There was no CNN of music. There was no one trusted destination."
On starting off as an intern and becoming a network owner:
"It was less than 200 years [ago] that we were slaves. I was really affected by that movie [12 Years A Slave] and you gotta understand, I started out as an intern, man. I started out getting coffee, cleaning bathrooms. I started out sneaking on the train from Howard University, and this is really a dream come true. It's bigger than me. There's a lot of people out there that want to be somebody, and it really shows that if you put that hard work into it, you can really get it. I got the same 24 hours as y'all do. We all got the same 24 hours. I just want this network to inspire people all over the world that it can be done."
On being the real king of New York:
"That's my boy [Jay Z] and we congratulate each other, but on this New York thing, he can be king of Brooklyn. [Laughs] Nah, that's my man HOV. But this year I am the king of New York, you gotta give me that. If not I'll take it."
Watch the full interview below
How inspiring is Diddy?! He literally went from an intern to a business mogul! He is definitely proof that with ambition, dedication, and hard work you can achieve anything you want! Nothing is too big or too small when it comes to creating your success!
Side SASS: Get out and create your dream! What are you waiting for?! We all have the same 24 hours, how will you use yours?!