There is NO DOUBT in our minds that our nails are about to be super BOLD, CLASSY, and Oh So SASSY thanks to Gwen Stefani's new OPI collection!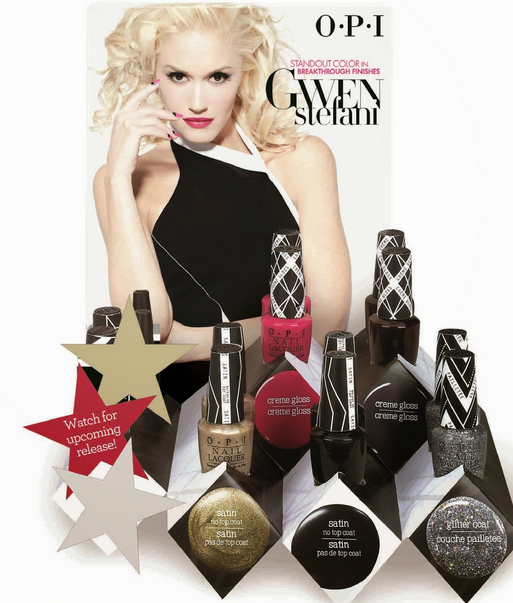 We really can't contain our excitement! Gwen Stefani is our favorite rocker chic! So when we heard about her teaming up with OPI for a limited edition nail collection we literally lost our minds! Not to mention that the line is inspired by the 2013 Metropolitan Museum Costume Institute Gala's theme "Punk: Chaos to Couture" (which Gwen Stefani slayed by the way!!!).
With an amazing mirrored finish that makes your nails look holographic and edgy names like "4 in the Morning" and "Over and Over A Gwen" we are definitely sure that our nails are about to be pretty bad ass...excuse our language...LOL!!
According to OPI:
"Gwen's signature red OPI hue - Over & Over A-Gwen - is available in a boxed set, which includes Swarovski black crystals and silver, gold, and pewter studs in bar, square, diamond and circle shapes for creating unique nail designs, as well as nail glue for easy application. Love. Angel. Music. Baby. and 4 in the Morning feature a new, semi-matte satin finish designed to be worn without top coat. Push and Shove, a bold chrome hue, is also worn without topcoat but requires a special complimentary base coat- Lay Down that Base. One thin coat of Lay Down that Base topped with two thin coats of Push and Shove yields an intense, mirrored finish. The collection is rounded out with two glossy creme lacquers and one sparkly glitter shade: Hey Baby, I Sing in Color, and in True Stefani Fashion."
The line will hit shelves in January 2014 right after the
Mariah Carey Holiday OPI collection
! At $9 a bottle and $14 for the
"Over and Over A Gwen"
this collection will make a great late Christmas gift!
Will you be indulging?!