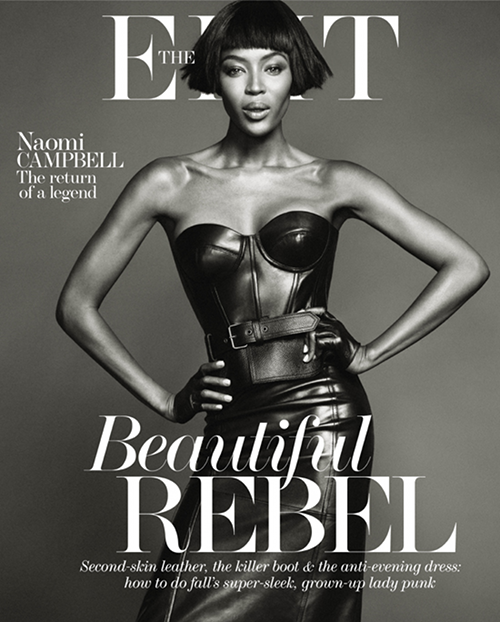 Naomi Campbell still slays like no other! The 43-year-old model (Yes! She's 43 and we can't believe it either!) covers The Edit Magazine and discusses her new show The Face, racism in the fashion industry, and keeping her body in shape!
On shooting The Face show filming in London:
"We're filming the show in my home country, so I want it to be better than amazing. London's always been a place where great new talent emerges, and home is where you are judged the most."
On what she hopes people will learn from The Face:
"I want people to really understand what the world of modeling is about, and how hard we work."
On being a mentor rather than a judge:
"I like the mentoring aspect, as opposed to sitting in my chair and judging someone. It's really rewarding to see the models transformed and it makes me feel like I'm doing something right. I want to see a different side of me.Whether my model wins or not, she will have learned and we will have helped her-that's really why I came on the show."
On what she learned from the various photographer she has worked with:
"I learned something from each and everyone [photographer] I worked with; their different styles and ways of how they wanted you to be."
On her mom being her mentor:
"My mum is one of my main mentors. She always gave me the best advice."
On her friendship with Nelson Mandela:
"He's 95 and I'm just happy that he's here today. There will never be anyone like him again. When you meet him, you just get such a positive aura. It's incredible."
On her emotional return to the Versace runway after 14 years:
"I was quite stunned at the reaction--I remember the room being quiet and I thought, 'Oh my God, they don't want me here!' It was emotional for me to do the show after 14 years. I knew about it for months and couldn't tell anyone. When I did my fitting in those amazing clothes, it was just overwhelming."
On prepping for the Versace show:
"For ten days prior to the Versace show, I just drank juice--carrot, ginger, pineapple--to cleanse."
On maintaing her amazing body:
"Since I had my operation on my knee, Pilates has become very important. I don't want to build muscle, just to tone. I'm not extreme about what I eat--I let chocolate and crisps come in at times. You have to allow the little things that make you happy."
On reminiscing with other super models from the 90's:
"When we all get together [Kate Moss, Cindy Crawford, Claudia Schiffer, Christy Turlington, and Linda Evangelista] we talk about the fun times we've had, and the work that we've done together through the years."
On how the industry has changed:
"It's very important to have a personality; it's not just about a pretty face any more."
On racism in the industry:
"I do think there is still racism. Joan Smalls and Jourdan Dunn and I speak with each other and, sometimes, I'm a little horrified with the things they tell me."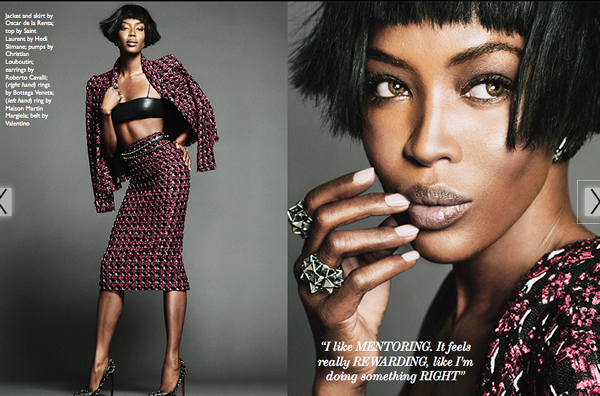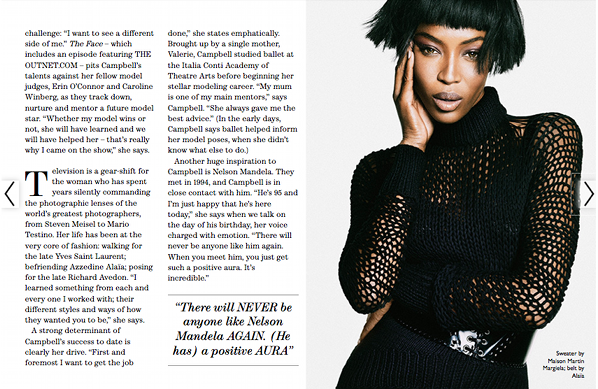 Read the full article
HERE
!