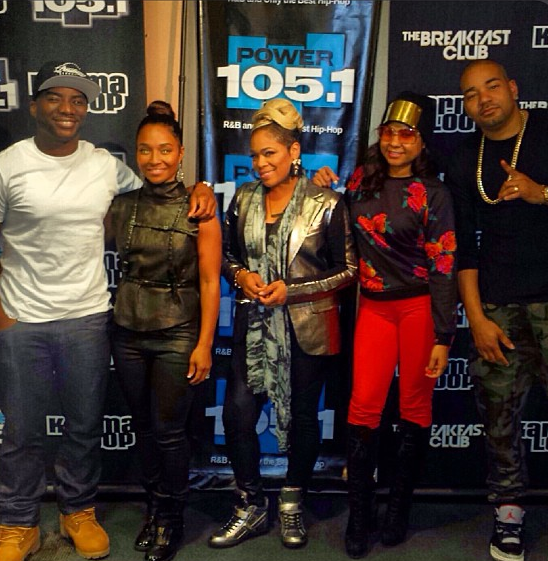 Leave it up to
The Breakfast Club on Power 105.1
to get
TLC
to spill even more tea about their biopic
"CrazySexyCool."
On buying the
TLC
name back:
T-Boz:
"We had to buy it. A million dollars a letter. Three million dollars. She [Pebbles] wants to say she didn't get enough money. [Laughs]"
On making the movie with
VH1
:
Chilli:
For me I like this way better because there is more longevity in t.v. They will show this movie for the next 30 years like they did the Temptations and the Jackson Story."
On if they exaggerated
Pebbles
character:
T-Boz:
It's not exaggerated. [When we didn't sign out contracts] she cried and she did the whole, ' You don't trust me.' That was true. But she had a tear. Remember the tear? We called it a Demi Moore tear. The thing that is true though, she did do some good for us. She put us together. She taught us some things, but then there's always times when you work with people, there's always things that you're never going to agree with and you don't like their ways and people part ways. I don't think she ever got over that."
On not walking away from the deal:
Chilli:
It's our dream and most people go through things and at the end of the day you just want to work really hard and hopefully sell a lot of records so you have the power to change those kinds of things like bad contracts and stuff like that."
On learning from their mistakes:
T-Boz:
"But you also want to learn from your mistakes. We've been here 20 years and that's two decades but you need to learn along the way and soak up all the information you can because that would be stupid to be our age and still going through the same things. That's not hot."
Watch the interview below:
We definitely will be tuned into
VH1
on October 21 at 9pm!
Side SASS:
The groups former manager,
Pebbles,
took to
Twitter
after
The Breakfast Club
interview to let the world know she will be taking legal action for her portrayal in the movie. Messy...
Watch the super trailer below: