For three years and some change Karrueche Tran has been on a roller coaster ride of emotions in her relationship with Chris Brown! From being crazy in love with him, to his uber famous ex-girlfriend Rihanna bouncing in and out his life, and his anger issues, Karrueche has dealt with a lot! However, despite it all she has stuck by Chris Brown's side! In an interview with Global Grinds's Blogxilla in the 'No Judgement Zone', the 25-year-old finally opened up a little bit about her relationship with Chris, her clothing line 'The Kill' being delayed, and her favorite song from Beyonce's new album!
On her relationship with
Chris Brown:
"It's different and it's something that a lot of people won't and will never understand, which is why I get so much flack and so much hate because looking from the outside in it looks messy. Nobody knows the real story and nobody knows what I went through."
On being in the public eye:
"Sometimes I hold back from tweeting certain things. Sometimes you're emotional and you want to tweet a lyric or whatever it may be, sometimes I can't do that because if I do it's, 'Oh this means this and that and she must be going through this...' It's like, what the hell."
On 'The Kill' launch being delayed:
"Last year we wanted to do this really cool launch on 12/12/12 and that was in the very, very beginning stages of my line. Like I said it's been much more work than I expected. So we thought that we could get it out by 12/12/12 with this awesome launch…I had to take a seat and chill out and make sure everything was set in order. It's been a year and unfortunately it hasn't completely launched but we've made so much progress and I'm so happy with where we're at and how the line has turned out and the clothes and everything, but I'd rather make sure things are right than rushed."
On considering plastic surgery:
"I've considered getting a boob job, but I don't think I'm going to. It's not really my thing. I would love something there but probably not."
On her favorite Beyonce song:
"
'Drunk In Love.' That gets me in the mood. The turn up mood. I love Beyoncé. When her album came out I was eating sushi and I was on Twitter
and I see all
these tweets like Beyoncé released an album and I was like gasp! We have to leave right now, I have to listen to this album right now. I downloaded
it right that second."
What song on
Beyoncé's album reminds her of her relationship:
"'Drunk In Love.' Yeah."
On what she has learned about her self since becoming famous:
"
I think I've discovered myself a little more. I guess like, personality
wise just being put through certain situations, whether it's being in the spotlight, heartbreak, friends, coming and going, family. I've just grown and I've matured and I kind of like that. Even going back to the haters and stuff, it's messed up what they say
but that's made me stronger and it's built me into who I am today and I am completely fine with that."
On her massive dragon hand tattoo:
"It's a Chinese dragon. I am partly Chinese and Vietnamese and I was born in 1988 which is the year of the dragon which is why I go the dragon. It was kind of spur of the moment. I think Chris was getting a tattoo and I was like, 'What do I wanna get? F-ck it I'll just get something on my hand.' And actually I was going to do from my wrist up and do a sleeve, or my wrist down. So I chose my wrist down. But I'm thinking about maybe connecting it...I don't know. I gotta slow down on the tattoos. I just recently signed with L.A. Talent's commercial division. It's kind of hard going into auditions because I have this massive tattoo on my hand and usually they want somebody a bit more bare."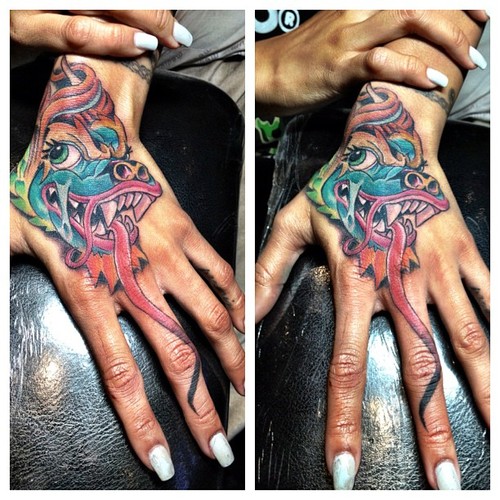 "It's kind of hard and annoying because these people just say whatever they want. Anything I do they are like, 'You couldn't launch your line, you're a dumb b! You're whack.' Just stupid stuff that's just like you can't even spell my name or say my name first of all. But, I try my best to ignore it and look on the positive side because at the end of the day, they don't know who I am and they're judging me based off of their own opinion so I just try and stay on the positive side."
Watch the interview below
Karrueche is such a sweet girl! She's so cute and we love her personality! She's definitely BOLD, CLASSY, & Oh So SASSY! You can tell that despite whatever her and Chris went through she truly does love that boy unconditionally. We are definitely rooting for them!