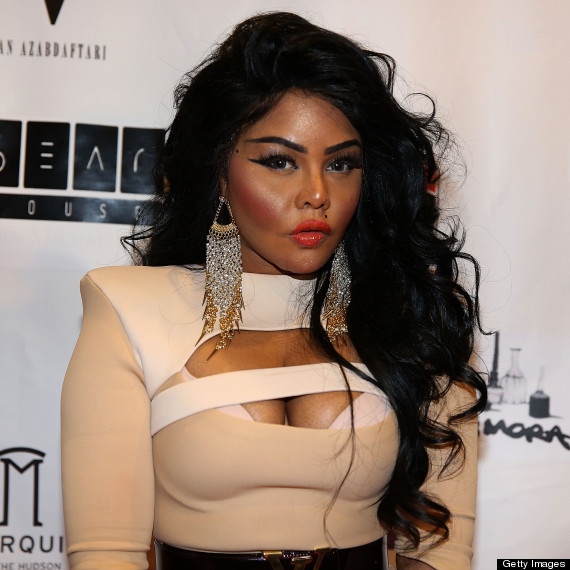 Trust us, we are just as shocked as you! Never in a million years did we think this story would be making headlines LOL. But, word on the street is that rapper Lil Kim is expecting her first child. Get the details and more pictures inside!
Whatever is in the water these days we know we definitely don't want any! Is it just us or is everybody's new accessory a baby bump?! New York Fashion Week is happening as we speak and apparently Lil Kim's baby had front row seats! Yes! The 39 year old rapper is in fact expecting her first child!
The mommy-to-be was spotted out wearing a very form fitting gown showing off her curves and her newest addition during last night's events. Now you know that social media captured every ounce of this and we love it! Of course Instagram and Twitter confirmed the news when stars like Perez Hilton, Ty Hunter, and Fashion Bomb Daily's Claire Sulmers posted pictures and videos of the rapper!
Perez uploaded this cute selfie with the Queen Bee with the caption:
"Me and a very PREGNANT #LilKim at #TheBlonds show. Congrats, boo!!! #NYFW"
Claire Sulmers spotted the Queen and captured a quick photo:
"A better view of @lilkimthequeenbee 's baby bump. #lilkim #mbfw #nyfw"
Beyonce's stylist, Ty Hunter was definitely on point with his camera last night capturing pictures and video of Lil Kim!
"Funtimes last night!!!!"
Well clearly we can all see that Lil Kim is very pregnant! She looks like she's about 6 months along! Congratulations to her!
Side SASS: Who do you think is the baby's daddy?! Comment and let us know!