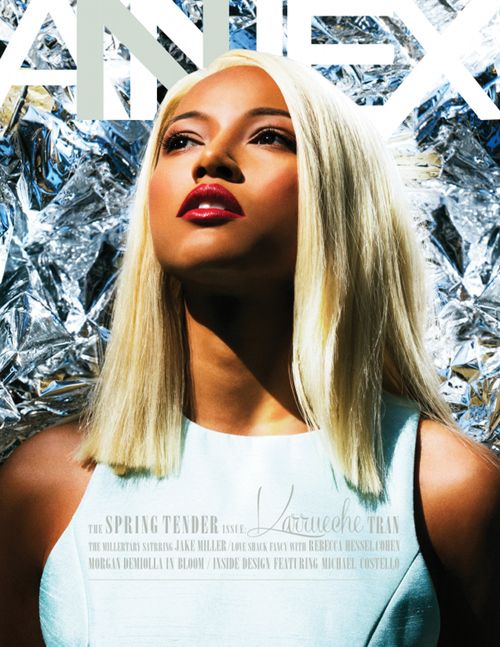 The first time is definitely a charm for Karrueche! Chris Brown's former ride or die chick ( they recently broke up) just got her first cover with Annex Magazine! Congratulations boo! To celebrate Karrueche got blonde and BOLD for the photo spread! She's such a cutie! In the magazine she dishes on what love means to her, who's her best friend in Hollywood, and what helped her through the rough times!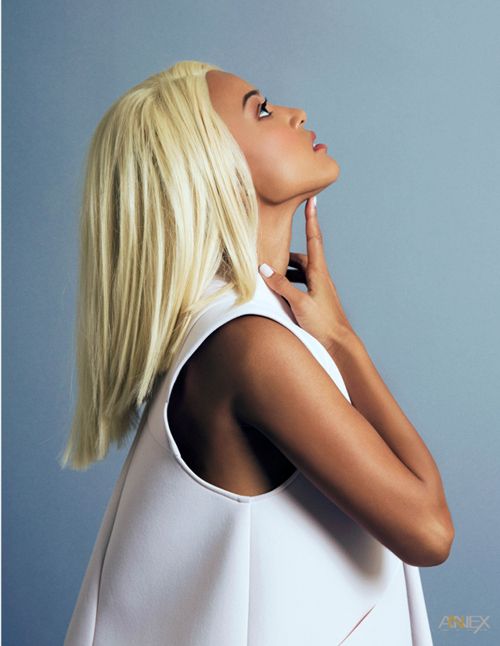 On what love means to her:
"Love is beautiful. Love is the most important aspect in my life. I believe that all things should stem from love and the heart, whether it be in your work space, family, relationships, friendships, etc. Once you learn to live through love, you achieve happiness. With those two main aspects in your life, everything else falls in to place and it's just right. There's no better feeling to love and be loved. And you can't buy that."
On staying positive:
"During rough times, keeping hope alive and being positive is the best way to help to get through. It's like getting over a hill, it just takes some time. "
On how she keeps the spark alive in her relationship:
"Now, if you want to "spark" things up, take a trip to Agent Provocateur, get some candles and rent a hotel room for the night :) Haha."
On becoming a star in her own right:
"Right now I have various opportunities and I'm exploring all of them to see which is best for me. I absolutely love modeling and probably can do it forever. I've tested the waters with acting, but I think I'm a bit too shy. I haven't really broken out of my shell.
On volunteering:
"Charity work and volunteering is also something that I will always push. I'm staring to be more involved with different organizations and I love it. I think it's imperative to give back to the community."
On her closest celebrity friend:
"Christina Milian is probably my closest friend. We have always have a good time with one another, whether we're out partying or having wine at the house. We have a lot in common and have been through similar situations. She was also there for me during rough times and I appreciate her for that."
On what gets her through the tough times:
" 'Never allow anyone to bring you out of your element, especially those nonexistent to your life.' This was a tweet I posted a few years ago on Twitter. I was going through a situation that we all are familiar of. I had a lot of criticism and comments about my current situation at the time. It was honestly very hard to deal with because people were saying really cruel things. Having to go through a rough time and then on top of that, having to deal with a ton of BS with a bit overwhelming. I stayed strong and it made me a stronger person. Never allow other people's opinion to justify you life. Live your life because at the end of the day, you've only got you."
Side SASS:
Don't judge us but we absolutely love
Karrueche
! She so cute and
SASSY
!