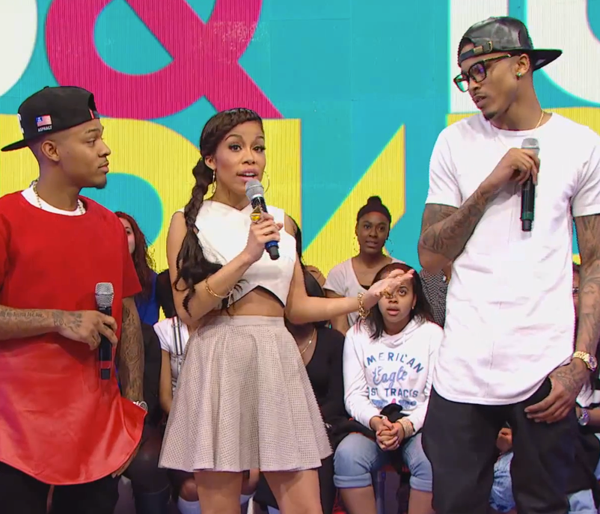 New R&B singer August Alsina is known for two things: singing and keeping it real. However, his keeping it real attitude has landed him in a awkward position with BET's 106 & Park co-host, Keshia Chanté.
Last month, August Alsina revealed in an interview that him and fellow R&B singer Trey Songz were no longer cool! He didn't give any real details, he just left it at that. Major side-eye on that but whatever. Since then, no matter where he goes or what he does someone brings the topic up! August is usually cool about it, but yesterday while promoting his debut album, Testimony, on BET's 106 & Park he snapped! Apparently, the singer told the producers of the show that he didn't want to talk about the beef, but rather focus on his new album. Instead of respecting his wishes, BET decided to get co-host Keshia Chanté (probably because Bow Wow said hell no) to ask about it anyway. However, the plan backfired because he went off and shut ish all the way down:
Keshia Chanté: Is there any chance that two talented brothers will bury the hatchet?
August Alsina: So you just gon' go against the grain and just go against everything that I just...I just told y'all not to ask me that sh-t when I got up in here.
Yikes! If that wasn't bad enough he kept interrupting the girl every time she tried to explain why she even asked the question to begin with:
Keshia Chanté: Oh okay. Fair.
August Alsina: Fair enough. Testimony coming out baby (laughs) album in stores.
Keshia Chanté: You've spoken on the radio stations and blogs and you're on the show and fans wanna know. And I'm asking you what fans wanna know. That's it. If you don't wanna answer it, that's fine.
August Alsina: I won't.
Keshia Chanté: Alright, we move on!
Keshia
kept her composure throughout the rest of the interview and eventually walked off stage to regroup herself, cuss somebody out backstage, or both...LOL! She definitely held her own and we are so proud of her! We like
August Alsina
, we do! However, we hate how he handled this situation! Being rude or disrespectful is not cute, especially when the whole world is watching and you want people to buy your album! All he had to do was avoid the question but instead he chose to react! Now he looks like an a-hole and
Trey Songz
is somewhere laughing! We know he wants to be the new bad boy of R&B but this is not a good look! He should keep it cute and keep the disrespect to a minimum, and remember it's not what you say, it's how you say it! Hopefully, he apologizes because he doesn't seem like this type of dude at all. Plus, it's not
Keshia
fault anyway. She's just doing her job!
Side SASS: Why in the world didn't Bow Wow step in?! He just let ole' boy chew her out while he watched...sad! You think he was scared or nah?! Even Rocsi and Free, both former host of BET's 106 & Park, tweeted about the incident and let the world know that they stand behind Keshia!