This interview right here is exactly why we like August Alsina! He doesn't bite his tongue for anyone and he's not afraid to admit when he's wrong. The R&B singer recently had an interview with Hot 97's Morning Show and baby it was everything. He revealed that he and Trey Songz are back on good terms and he finally apologized to 106 & Park host Keshia Chanté!

He also opened up about how he's dealing with the entertainment industry.
On being the first singer EVER to appear on XXL's Freshman Magazine cover :
"I'm honored because I'm setting a new standard and that's history made for me cause I done opened up the door for some many other people. When I went to XXL, they was saying the same thing. 'Nah. You're not a rapper. This is Hip-Hop dominated.' Honestly, I don't know what's going on in the world of music because you got singers that's rapping and rappers that's singing."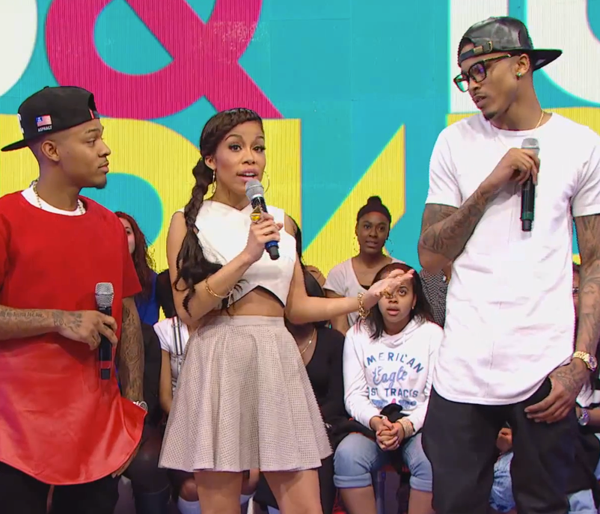 "I wasn't mean. Here's the thing. People get honesty and mean mixed up nowadays. You can say that now [that I didn't have to curse at her], but if you put me in a position…that's how I felt. I went back to BET yesterday and that's exactly what I said. [Keisha] was like, 'I didn't mean to disrespect you' and I was like, 'Well it wasn't my intention to disrespect you.' Before this conversation, I felt how I felt and I spoke on how I felt and I don't take back nothing that I said. I think sometimes people can be set up and people are just, quote unquote, doing their job."
On people thinking he's mean:
"I speak from my heart, I got a big f-ckin' mouth. It just is what it is. I don't know how to change that, but in our reality, what I said was never about me trying to belittle the next n-gga or cause a problem with the next n-gga. It's just, 'this is how I feel.' And I'm the idiot because I said what I said thinking."
On reconciling with Trey Songz:
"We don't have a problem. I just talked to Trey. I think I was in Miami with Jeezy and he got on the line with Jeezy and I holla'd at him. The thing is, I choose to tell you what I wanna tell you and the rest of it just ain't your motherf-ckin' business. Period. What it is, especially with this industry, so many motherf-ckers running around here claiming, 'I'm the realest n-gga! I'm this and I'm that' and when somebody actually say something that's real, then it becomes, 'You're an asshole. You're a jerk. You ain't got no media training.'Where I come from, when n-ggas beef, n-ggas die. People throw that 'beef' word around too loosely."

On the politics of the entertainment industry:

"I hear what your saying but that don't scare me with a place being on my videos because to be quite honest, that's not how I get paid… That's not to disrespect BET at all because I got love for everyone [for] being for supporting me. Nobody in this world controls what I do, so what I learned was that this is politics man and me coming from where I come from and not really being so knowledgeable to the fact that it's all politics and it is a game to a lot of people and it's f***ed up because this is my life, this is my livelihood, this is how I take care of my family and for other people, it's not that deep. I'ts just a job."


Watch the full interview below!


We definitely gained a new respect for August Alsina. For him to apologize to Keshia Chanté was very big of him. Not a lot of people would have done that. We are also glad him and Trey Songz patched things up. August really seems like a nice guy. We just feel like he's misunderstood.
Side SASS: How major is it that he is the first singer on the XXL Freshmen Class issue?! Congratulations again!