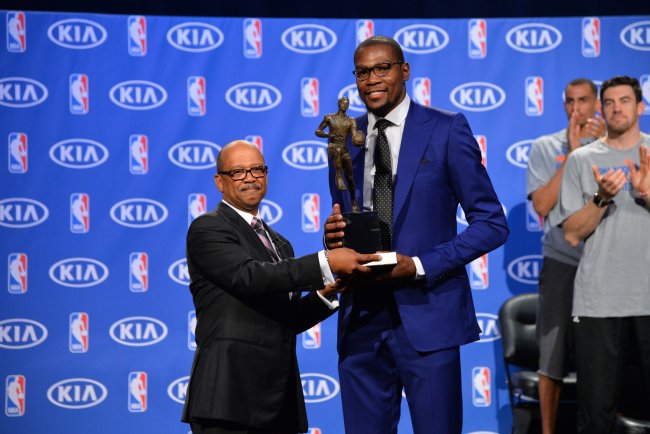 *Cue Trophies by Drake* Aw man, it's too early for us to be crying our eyes out! However, the MVP speech that Kevin Durant gave earlier this week definitely tugged at our heartstrings. Can someone pass us a Kleenex please?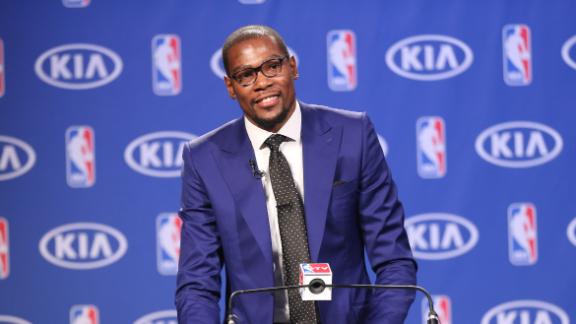 On Tuesday, it was announced that Oklahoma City Thunder star forward, Kevin Durant, had officially won his very first NBA MVP award at 25-years-old! Congratulations KD! You did it! Yet, the biggest moment of the night wasn't him winning the award or the fact that he finally beat out NBA superstar LeBron James for the title. It was his emotional and motivating acceptance speech! In his heartfelt speech, KD thanked his entire team, literally one-by-one, for keeping him humble and always supporting him no matter what. He also thanked them for seeing the MVP in him when he didn't see it in himself. He made it known that without their hand in his success he wouldn't be standing as the MVP today!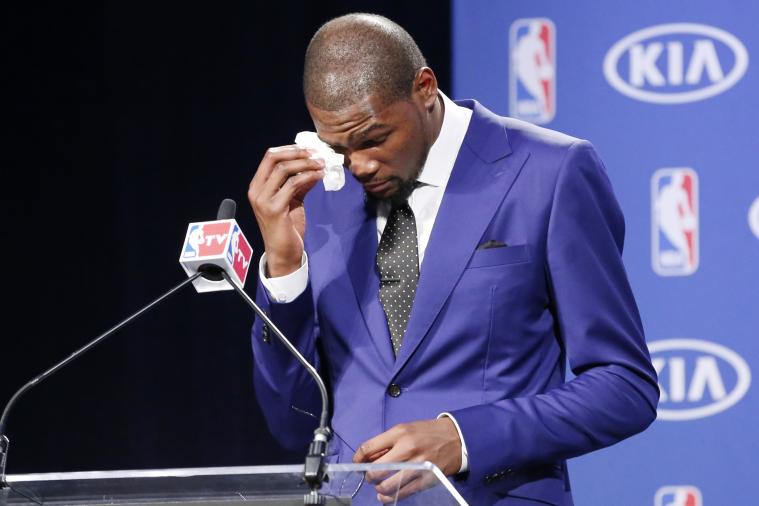 Throughout his speech he kept the tears to a minimum. However, when he started talking about his mother, Wanda, he couldn't control the tears anymore. They just started flowing. Especially when he recounted growing up in PG County, Maryland. Where he, his mother, and brother moved around constantly and the countless sacrifices his mother had to make to provide for their family. He let the world know that she was truly the real MVP!
"I don't think you know what you did. You had my brother when you were 18 years old. Three years later I came out. The odds were stacked against us. Single parent with two boys by the time you were 21 years old. Everybody told us we weren't supposed to be here. We moved from apartment to apartment by ourselves. One of the best memories I have is when we moved into our first apartment. No bed, no furniture, and we just all sat in the living room and just hugged each other because we thought we made it.When something good happens to you, I don't know about you guys, but I tend to look back to what brought me here. You wake me up in the middle of the night in the summer times. Making me run up a hill. Making me do push-ups. Screaming at me from the sidelines at my games at eight or nine years old. We weren't supposed to be here. You made us believe. You kept us off the street, put clothes on our backs, food on the table. When you didn't eat, you made sure we ate. You went to sleep hungry. You sacrificed for us. You're the real MVP."
We don't know about y'all but his speech truly touched us and we haven't stopped thinking about it since! KD is an great basketball player but he is an even greater human being. Coming from his situation and finally being able to take care of his family is amazing! We truly respect him and everything he stands for. Plus he from PG County so we definitely have to put on for him!
Watch the inspiring speech below!
Side SASS: " Just a youngin from Maryland, tryna get it" - Kevin Durrant! There is a KD MVP billboard in PG County! This speaks volumes!! Congratulations again KD!